14th Street-Union Square

Lines served

L N Q R 4 5 6

Wheelchair Accessible

Partially

Artwork

Yes
14th street-Union Square is a station complex that is located beneath 14th street and Park Avenue
456 platform
Edit
4 tracks and 2 visable island platforms with gap fillers. There's two side platforms hidden behind the local track walls. This wing was part of the original 1904 route. Next north: Local-23rd street-Park avenue Express-Grand Central Abandoned-18th street-Park avenue Next south: Local-Astor place Express-Brooklyn Bridge-Chambers Street
NQR platform
Edit
4 tracks and 2 island platforms. Mosaics on the track walls have pictures of a little village. This wing is accessible via elevator. Next north: Local-23rd street-Bway Express-34th street-Herald Square Next south: Local-8th street NYU Express-Canal Street-Chinatown
L platform
Edit
2 tracks and an island platform. Mosaics on the track walls have the letter U, for Union Square. This wing is accessible via elevator, and at the southern end of the NQRW platform. Next north: 14th street-6th avenue Next south: 3rd avenue-14th street
Arts for Transit
Edit
Framing Union Square
-The station has changed throughout the years. Mary Miss brought back these old artifacts throughout the station, along with red frames with messages in them. Some of these artifacts are eagle plaques from the abandoned side platforms.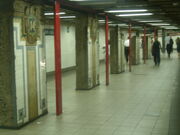 Ad blocker interference detected!
Wikia is a free-to-use site that makes money from advertising. We have a modified experience for viewers using ad blockers

Wikia is not accessible if you've made further modifications. Remove the custom ad blocker rule(s) and the page will load as expected.